A revolutionary lifting eye which, thanks to the patented system with the red latches (see images) can be mounted by hand (latches in the upright position) and then freely rotate 360° around its own axis after installation (latches in the down position). The eye can be loaded within a range of 180°. The eye can be used individually or in combination with multiple eyes and should be tightened only by hand. This version of PLGW is used in those areas where a threaded bolt on the load is used instead of a simple thread. there is also the possibility to mount the lifting point PLGW-SN with a commercially available (standard) screw through the clearance hole. The benefit with the eye nut is that no matter the width of the load, the same lifting points ca be used. All you need are standard screws with different screw lenghts.
Material: Alloy steel grade 10.
Marking: According to standard, WLL, and an individual serial number.
Finish: Painted.
Standard: EN 1677-1
Safety factor: 4:1
Grade: 10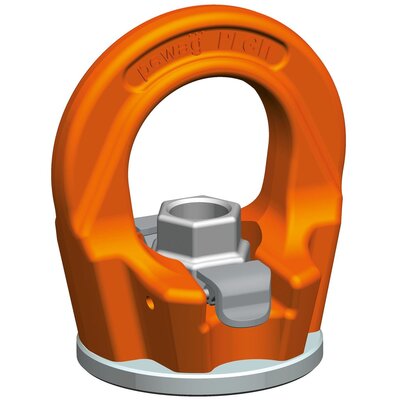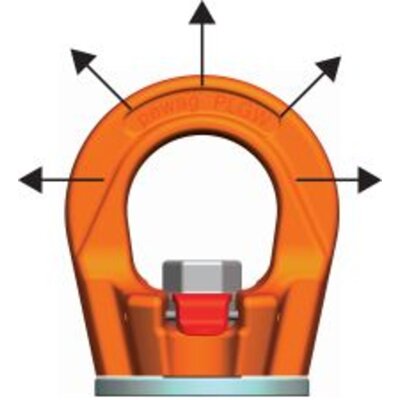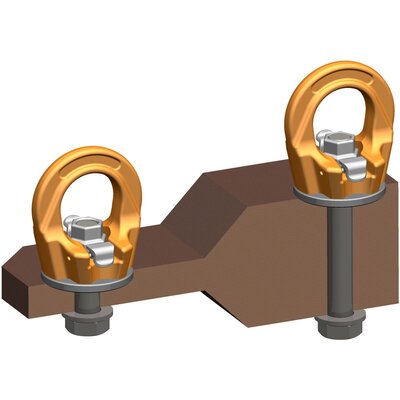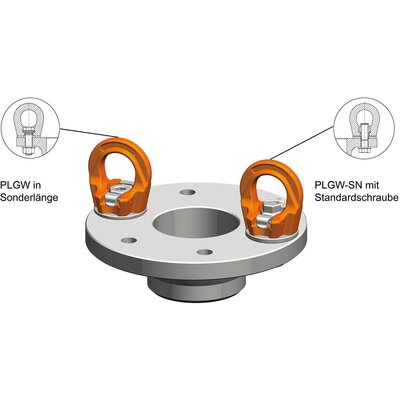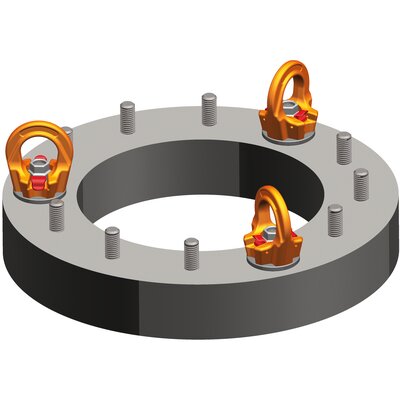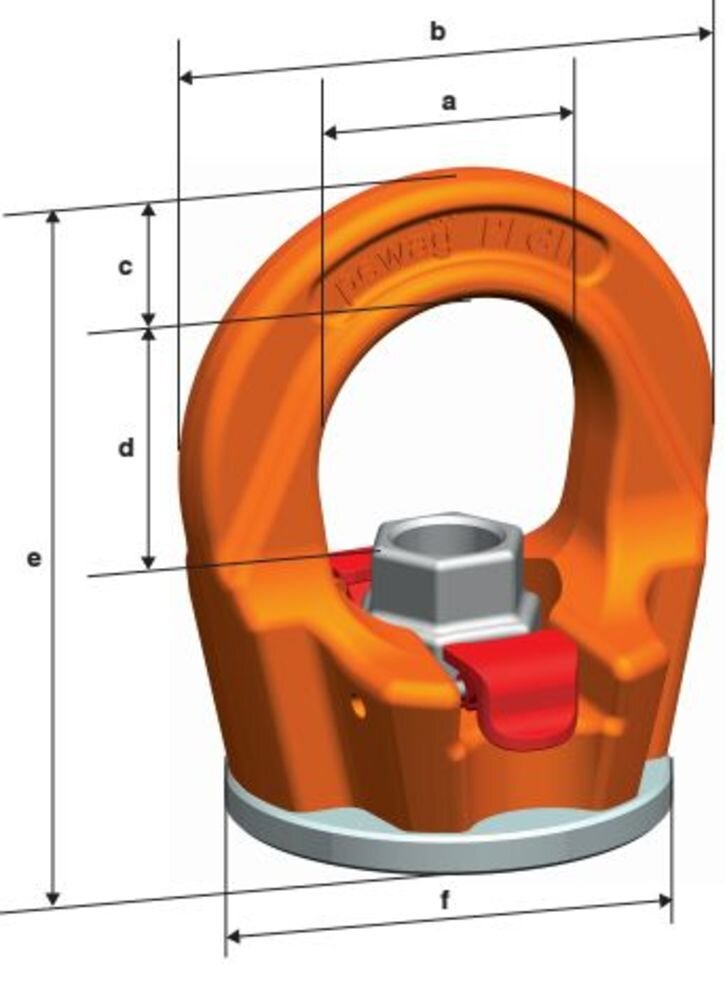 Select a row from the table below, then click the add to quote button
Download CAD
Download CAD by choosing the desired product from the table above and the format from the menu below. Click "Get CAD" and after the load reaches 100% you can click on the download icon to download it. Please note that CAD drawings are only available if the icon at the right side of the table above is colored and not grayed out.
To download CAD files, you must provide a valid e-mail address
Load diagram
Method of lifting




Number of legs

1

1

2

2

2

2

3+4

3+4

2

3+4

Angle of inclination

0°

90°

0°

90°

0°-45°

45°-60°

0°-45°

45°-60°

asymm.

asymm.

Code

Thread

Load capacity tons

mm

PLGW-SN 0,3 t

M8

1,0

0,3

2,0

0,6

0,4

0,3

0,6

0,4

0,3

0,3

12

PLGW-SN 0,5 t

M10

1,5

0,5

3,0

1

0,7

0,5

1

0,7

0,5

0,5

12

PLGW-SN 0,7 t

M12

2

0,7

4

1,4

1

0,7

1,4

1

0,7

0,7

14

PLGW-SN 1,5 t

M16

4

1,5

8

3

2,1

1,5

3

2,2

1,5

1,5

19

PLGW-SN 2,3 t

M20

5

2,3

10

4,6

3,2

2,3

4,8

3,4

2,3

2,3

22

PLGW-SN 3,5 t

M24

6,5

3,5

13

7

4,9

3,5

7,4

5,2

3,5

3,5

27

PLGW-SN 4,9 t*

M30

12

4,9

24

9

6,9

4,9

10,3

7,3

4,9

4,9

36