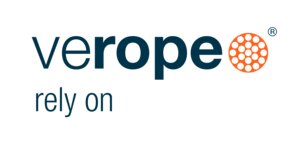 VEROPE AG – DELIVERING EXCELLENCE
To ensure the best possible service and access to verope special wire ropes,verope is represented around the globe.
verope AG is a Joint Venture company between Pierre Verreet, head and founder of verope, and Kiswire Ltd. from South Korea. By using the extraordinary expertise of verope in the special wire rope market and the long experience of Kiswire Ltd. in efficient production, verope is a partner you can rely on.
Our concept is to provide affordable high quality special wire ropes for the mining-, construction and heavy industry, as well as offshore and port applications to the world market. At the heart of the verope service strategy lies reliability and consistent innovation with a true global reach. This is achieved by focusing on the most valuable asset of any company – its employees and partners all over the globe. Together they make up our heroes of reliability. This ever-expanding verope team remains your reliable partner to advise and assist you on the best and most competitive rope construction for your application.
www.verope.com