General: This type of lifting beam is characterized by adjustable attachments via a cam beam and is designed for direct attachment to the crane hook in the central lifting eye. The attachment points are designed as an oval ring which ma-kes it possible to use for example a 2-part sling. Lifting beams type K are available as standard in various lengths with a load range from 500 kg to 16.000 kg. A large selection of accessories such as topslings, various attachments etc. are available.
Design: Lightweight welded beam construction providing good torsional stiffness.
Proof: 1,5 x WLL.
Material: Beam and plate of high-strength structural steel.
Marking: Working load limit and CE marking.
Finish: Yellow painted.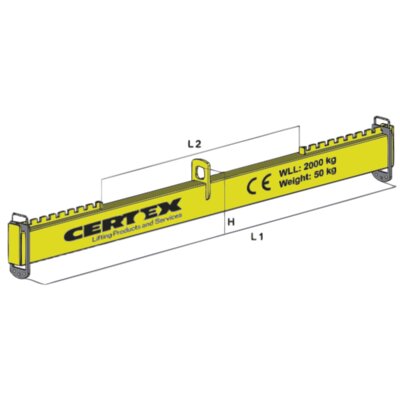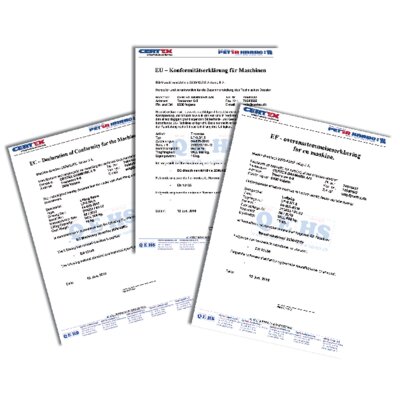 Select a row from the table below, then click the add to quote button
Download CAD

Description
WLL 1,0 T
| | | | | | |
| --- | --- | --- | --- | --- | --- |
| Code | WLL | L1 | L2 | H | Weight |
| | t | mm | mm | mm | kg |
| K-1/1,5 | 1 | 1500 | 750 | 280 | 32 |
| K-1/2 | 1 | 2000 | 800 | 280 | 48 |
| K-1/2,5 | 1 | 2500 | 1300 | 280 | 56 |
| K-1/3 | 1 | 3000 | 1350 | 280 | 65 |
| K-1/3,5 | 1 | 3500 | 1850 | 280 | 101 |
| K-1/4 | 1 | 4000 | 1900 | 330 | 146 |
| K-1/5 | 1 | 5000 | 2450 | 330 | 177 |
| K-1/6 | 1 | 6000 | 3000 | 415 | 169 |
WLL 2,0 T
| | | | | | |
| --- | --- | --- | --- | --- | --- |
| Code | WLL | L1 | L2 | H | Weight |
| | t | mm | mm | mm | kg |
| K-2/1,5 | 2 | 1500 | 750 | 330 | 48 |
| K-2/2 | 2 | 2000 | 800 | 330 | 56 |
| K-2/2,5 | 2 | 2500 | 1300 | 330 | 74 |
| K-2/3 | 2 | 3000 | 1350 | 330 | 98 |
| K-2/3,5 | 2 | 3500 | 1850 | 330 | 132 |
| K-2/4 | 2 | 4000 | 1900 | 415 | 135 |
| K-2/5 | 2 | 5000 | 2450 | 415 | 207 |
| K-2/6 | 2 | 6000 | 3000 | 415 | 253 |
WLL 3,0 T
| | | | | | |
| --- | --- | --- | --- | --- | --- |
| Code | WLL | L1 | L2 | H | Weight |
| | t | mm | mm | mm | kg |
| K-3/2 | 3 | 2000 | 800 | 415 | 74 |
| K-3/3 | 3 | 3000 | 1350 | 415 | 115 |
| K-3/4 | 3 | 4000 | 1900 | 415 | 174 |
| K-3/5 | 3 | 5000 | 2450 | 455 | 246 |
| K-3/6 | 3 | 6000 | 3000 | 595 | 408 |
WLL 5,0 T
| | | | | | |
| --- | --- | --- | --- | --- | --- |
| Code | WLL | L1 | L2 | H | Weight |
| | t | mm | mm | mm | kg |
| K-5/2 | 5 | 2000 | 800 | 455 | 106 |
| K-5/3 | 5 | 3000 | 1350 | 455 | 165 |
| K-5/4 | 5 | 4000 | 1900 | 455 | 245 |
| K-5/5 | 5 | 5000 | 2450 | 595 | 258 |
| K-5/6 | 5 | 6000 | 3000 | 595 | 409 |
WLL 8,0 T
| | | | | | |
| --- | --- | --- | --- | --- | --- |
| Code | WLL | L1 | L2 | H | Weight |
| | t | mm | mm | mm | kg |
| K-8/2 | 8 | 2000 | 800 | 455 | 123 |
| K-8/3 | 8 | 3000 | 1350 | 595 | 250 |
| K-8/4 | 8 | 4000 | 1900 | 595 | 352 |
| K-8/5 | 8 | 5000 | 2450 | 595 | 495 |
| K-8/6 | 8 | 6000 | 3000 | 760 | 600 |
WLL 10 T
| | | | | | |
| --- | --- | --- | --- | --- | --- |
| Code | WLL | L1 | L2 | H | Weight |
| | t | mm | mm | mm | kg |
| K-10/2 | 10 | 2000 | 800 | 595 | 266 |
| K-10/3 | 10 | 3000 | 1350 | 595 | 330 |
| K-10/4 | 10 | 4000 | 1900 | 595 | 383 |
| K-10/5 | 10 | 5000 | 2450 | 760 | 522 |
| K-10/6 | 10 | 6000 | 3000 | 760 | 704 |
WLL 16 T
| | | | | | |
| --- | --- | --- | --- | --- | --- |
| Code | WLL | L1 | L2 | H | Weight |
| | t | mm | mm | mm | kg |
| K-16/4 | 16 | 4000 | 1900 | 760 | 517 |
| K-16/5 | 16 | 5000 | 2450 | 825 | 741 |
| K-16/6 | 16 | 6000 | 3000 | 825 | 850 |