General: This type of lifting beam is characterized by adjustable attachments via a cam beam and is designed for direct attachment to the crane hook in the central lifting eye. The attachment points are designed as an oval ring which ma-kes it possible to use for example a 2-part sling. Lifting beams type K are available as standard in various lengths with a load range from 500 kg to 16.000 kg. A large selection of accessories such as topslings, various attachments etc. are available.
Design: Lightweight welded beam construction providing good torsional stiffness.
Proof: 1,5 x WLL.
Material: Beam and plate of high-strength structural steel.
Marking: Working load limit and CE marking.
Finish: Yellow painted.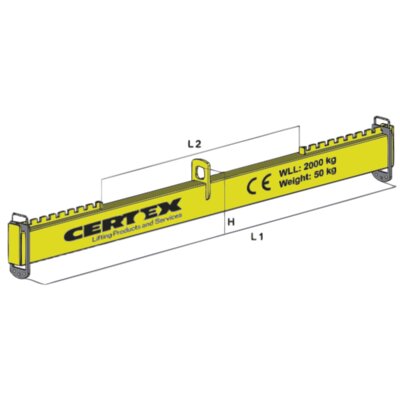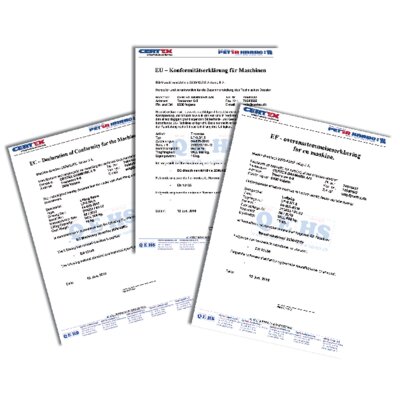 Select a row from the table below, then click the add to quote button
Download CAD

Download CAD by choosing the desired product from the table above and the format from the menu below. Click "Get CAD" and after the load reaches 100% you can click on the download icon to download it. Please note that CAD drawings are only available if the icon at the right side of the table above is colored and not grayed out.
WLL 1,0 T
| | | | | | |
| --- | --- | --- | --- | --- | --- |
| Code | WLL | L1 | L2 | H | Weight |
| | t | mm | mm | mm | kg |
| K-1/1,5 | 1 | 1500 | 750 | 280 | 32 |
| K-1/2 | 1 | 2000 | 800 | 280 | 48 |
| K-1/2,5 | 1 | 2500 | 1300 | 280 | 56 |
| K-1/3 | 1 | 3000 | 1350 | 280 | 65 |
| K-1/3,5 | 1 | 3500 | 1850 | 280 | 101 |
| K-1/4 | 1 | 4000 | 1900 | 330 | 146 |
| K-1/5 | 1 | 5000 | 2450 | 330 | 177 |
| K-1/6 | 1 | 6000 | 3000 | 415 | 169 |
WLL 2,0 T
| | | | | | |
| --- | --- | --- | --- | --- | --- |
| Code | WLL | L1 | L2 | H | Weight |
| | t | mm | mm | mm | kg |
| K-2/1,5 | 2 | 1500 | 750 | 330 | 48 |
| K-2/2 | 2 | 2000 | 800 | 330 | 56 |
| K-2/2,5 | 2 | 2500 | 1300 | 330 | 74 |
| K-2/3 | 2 | 3000 | 1350 | 330 | 98 |
| K-2/3,5 | 2 | 3500 | 1850 | 330 | 132 |
| K-2/4 | 2 | 4000 | 1900 | 415 | 135 |
| K-2/5 | 2 | 5000 | 2450 | 415 | 207 |
| K-2/6 | 2 | 6000 | 3000 | 415 | 253 |
WLL 3,0 T
| | | | | | |
| --- | --- | --- | --- | --- | --- |
| Code | WLL | L1 | L2 | H | Weight |
| | t | mm | mm | mm | kg |
| K-3/2 | 3 | 2000 | 800 | 415 | 74 |
| K-3/3 | 3 | 3000 | 1350 | 415 | 115 |
| K-3/4 | 3 | 4000 | 1900 | 415 | 174 |
| K-3/5 | 3 | 5000 | 2450 | 455 | 246 |
| K-3/6 | 3 | 6000 | 3000 | 595 | 408 |
WLL 5,0 T
| | | | | | |
| --- | --- | --- | --- | --- | --- |
| Code | WLL | L1 | L2 | H | Weight |
| | t | mm | mm | mm | kg |
| K-5/2 | 5 | 2000 | 800 | 455 | 106 |
| K-5/3 | 5 | 3000 | 1350 | 455 | 165 |
| K-5/4 | 5 | 4000 | 1900 | 455 | 245 |
| K-5/5 | 5 | 5000 | 2450 | 595 | 258 |
| K-5/6 | 5 | 6000 | 3000 | 595 | 409 |
WLL 8,0 T
| | | | | | |
| --- | --- | --- | --- | --- | --- |
| Code | WLL | L1 | L2 | H | Weight |
| | t | mm | mm | mm | kg |
| K-8/2 | 8 | 2000 | 800 | 455 | 123 |
| K-8/3 | 8 | 3000 | 1350 | 595 | 250 |
| K-8/4 | 8 | 4000 | 1900 | 595 | 352 |
| K-8/5 | 8 | 5000 | 2450 | 595 | 495 |
| K-8/6 | 8 | 6000 | 3000 | 760 | 600 |
WLL 10 T
| | | | | | |
| --- | --- | --- | --- | --- | --- |
| Code | WLL | L1 | L2 | H | Weight |
| | t | mm | mm | mm | kg |
| K-10/2 | 10 | 2000 | 800 | 595 | 266 |
| K-10/3 | 10 | 3000 | 1350 | 595 | 330 |
| K-10/4 | 10 | 4000 | 1900 | 595 | 383 |
| K-10/5 | 10 | 5000 | 2450 | 760 | 522 |
| K-10/6 | 10 | 6000 | 3000 | 760 | 704 |
WLL 16 T
| | | | | | |
| --- | --- | --- | --- | --- | --- |
| Code | WLL | L1 | L2 | H | Weight |
| | t | mm | mm | mm | kg |
| K-16/4 | 16 | 4000 | 1900 | 760 | 517 |
| K-16/5 | 16 | 5000 | 2450 | 825 | 741 |
| K-16/6 | 16 | 6000 | 3000 | 825 | 850 |